Truman Forensics Wins Third Straight State Championship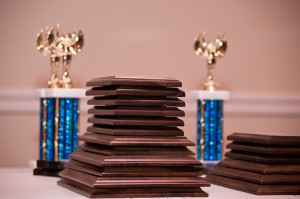 The Truman State University speech and debate team defended its title as the Overall Team State Champions at the Missouri Association of Forensic Activities State Tournament, winning for the third year in a row. The tournament, held at Truman State University, took place February 17 and 18.
Contributing to the Overall Team State Champion title were the first place finish in individual events, the second place finish in debate, and the multiple individual state champion titles and awards.
In individual events, five students claimed state championships. Junior Jessica Petrie (Millstadt, IL) took the state champion title in both impromptu speaking and original oratory. Sophomores AJ Taula (Independence, MO) and Arielle Long-Seabra (Blue Springs, MO) won duo interpretation, and freshman Kate Pillen (Rochelle, IL) took the title in prose interpretation. Sophomore Kristen Wright (Liberty, MO) won the state championship in extemporaneous speaking.
Senior Andrew Grojean (Blue Springs, MO) placed fourth overall in individual sweepstakes, an award based on a competitor's combined success in all of his or her events. Grojean earned fourth place in informative speaking and fifth place in extemporaneous speaking. Grojean also took second place in duo interpretation with partner Long-Seabra and fourth in duo with Taula. Jessica Petrie placed fifth in individual sweepstakes due to both of her first place finishes.
Also contributing to the first place individual events award were freshman Codi Caton's (Independence, MO) second place finish in programmed oral interpretation and freshman Alex Eichstadt's (Blue Springs, MO) fifth place finish in original oratory. Eichstadt placed fourth in extemporaneous speaking as well, while sophomore Sara Perkins (Sedalia, MO) took sixth in the event. Taula earned third place in poetry interpretation and second place in dramatic interpretation. Long-Seabra took fourth in dramatic.
Freshman Maddie Ebert (Omaha, NE) won the state championship in Lincoln-Douglas debate. Sophomores Myra Milam (Springfield, MO) and Kristen Wright made it to the semifinal round of debate, while sophomores Nick Gorman (Kansas City, MO) and John Carney (Overland Park, KS) made the quarterfinal round.
Milam won the state champion speaker award for Lincoln-Douglas debate. Gorman earned the fourth place speaker award, Wright earned fifth, and Carney took sixth.
The parliamentary debate team of sophomores Kory Anderson (St. Louis, MO) and John Carney made it to the quarterfinal round of open parliamentary debate.  Carney took the third place speaker award in the event.
The team next travels to Kansas City, Missouri in mid-March for the first of two national tournaments.