Debate Team Kicks of Season at Western Kentucky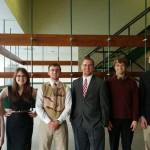 The Truman State University Debate team has begun their season at Western Kentucky University where they competed in their first tournament of the 2012-2013 school year.
The debaters returned with 3rd place in overall sweepstakes points. Sophomore Maddie Ebert (Omaha, NE) and freshman David Cook (Poplar Bluff, MO) were octofinalists in Lincoln Douglas debate, and junior Nick Gorman (Kansas City, MO) was a quarterfinalist. "I was very impressed with the team," Gorman commented on the recent achievement, "We had three people break into elimination rounds.  For the first tournament of the year, I was very proud of my team's success."
"The team did very well overall," adds Coach Russell Luce, "Winning a team sweepstakes award was amazing considering that for half of the team, it was their first collegiate tournament.  With a young team, it is always more difficult to win team awards, although they rose to the occasion." After winning the national debate competition last year, Truman State University's debate team is determined to defend its championship this year. Coach Luce additionally adds that the toughest level of competition Truman's debate team will face this year is likely to be Western Kentucky and Hillsdale College.