Truman Forensic Union Comes On Strong At the 74-Swing Speech Tournament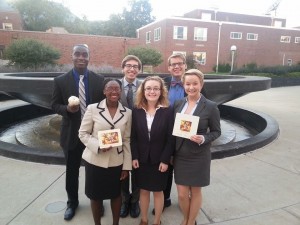 By Truman Forensics Students and Staff
Truman State University's Forensic Union (speech and debate team) attended its second tournament of the 2014-2015 with strong performances and 2 qualifications for the National Forensic Association championships in April. Six members of the Truman Forensic Union traveled to Illinois to compete at the annual 74-Swing jointly hosted by Bradley University (Peoria, IL) and Illinois State University (Normal, IL). In addition to competing alongside their hosts, Truman faced impressive competition from other top forensic teams in the nation, such as Western Kentucky University, Northwestern University, and the University of Northern Iowa.
The first award of the weekend went to Freshman Pre-Engineering and Physics major Brian Kantanka (Kansas City, MO) on October 4 during the Dan Smith Invitational portion of the tournament. Kantanka was declared the Top Novice in Poetry Interpretation based on his strong performance against varsity competitors.
On Sunday, October 5 the success continued with Freshman Spanish and Political Science major Clarissa Todd and Sophomore Biology major Mahliyah Adkins-Threats both making it to finals in their events. Todd (Darien, IL) placed 4th in the novice division of Prose Interpretation. Adkins-Threats (West Peoria, IL) took her Poetry Interpretation to the varsity division final round, where she placed 5th. For both Todd and Adkins-Threats, this means they will be able to take those events to the National Forensic Association championships hosted by Ohio University (Athens, OH) this coming April.
The team travels next to the University of Central Missouri for the Missouri Mule on October 18 and 19.
Participation in the forensics program is open to any Truman student in good standing, regardless of prior speech and debate experience.  For more information on how to get involved, visit forensics.truman.edu or contact Director of Individual Events, Christopher Outzen at coutzen@truman.edu, or Kevin Minch, Interim Director of Forensics at kminch@truman.edu.