Truman Forensic Union Divides and Conquers This Past Weekend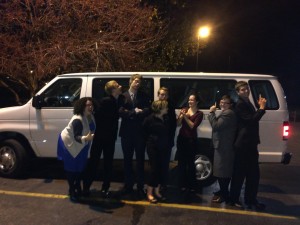 By Truman Forensics Students and Staff
Truman State University's Forensic Union (speech and debate team) split the squad this weekend to attend 2 different tournaments. Students in debate traveled to the Red Bird Invitational at Illinois State University in Normal, Illinois and students in individual events traveled to the Lynn Ross/Alumni Swing at Kansas State University in Manhattan, Kansas.
On the first day of the Red Bird Invitational, senior math major Max Highsmith advanced to the quarterfinal round in open Lincoln-Douglas debate. Freshman political science major Kelsey Barnes also had success in the open division, receiving 2nd Speaker. On the second day of the tournament, Highsmith repeated his quarterfinals success
At Kansas State University, the speech team also had strong success. On the first day of the tournament, the team had 6 events in the final rounds. Freshman pre-engineering/physics major Brian Kantanka placed 2nd in Dramatic Interpretation. Sophomore pre-elementary/communication disorders major Adrien Zambrano placed 5th in Impromptu Speaking. Sophomore computer science major Anson Long-Seabra took 2nd in Poetry Interpretation. Sophomore biology major Mahliyah Adkins-Threats took home three awards, placing 5th in Persuasive Speaking and placing 4th in both After Dinner Speaking and Poetry Interpretation. The speech team continued their momentum on day two of the tournament. Kantanka took 1st in Dramatic Interpretation, Long-Seabra placed 1st in After Dinner Speaking and 2nd in Poetry Interpretation, and Adkins-Threats took 1st in Poetry Interpretation and 4th in Persuasive Speaking.
The Truman Forensic Union is done traveling for the semester, but will return at the beginning of Spring 2015. Students in individual events will travel to the University of Northern Iowa and Wartburg College January 17th and 18th.
Participation in the forensics program is open to any Truman student in good standing, regardless of prior speech and debate experience.  For more information on how to get involved, visit forensics.truman.edu or contact Director of Individual Events, Christopher Outzen at coutzen@truman.edu, or Kevin Minch, Interim Director of Forensics at kminch@truman.edu.