Scholarships
Truman Forensics Scholarship Tryout Day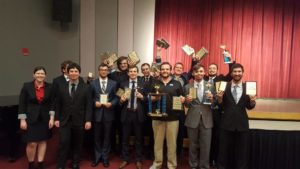 **This site represents information for Spring 2018. For questions about our 2019 tryouts, please feel free to contact us. ~Truman Forensics Staff**
The Truman Forensic Union is thrilled to offer a scholarship tryout weekend for incoming freshman who wish to compete in speech and/or debate. This scholarship day will be held on Saturday, March 24th. We will be hosting this in conjunction with Admissions' Saturday Showcase Visit scheduled for that day so we encourage you to sign up for that event. You can find more information on the showcase at: http://www.truman.edu/admission-cost/visit-truman/showcases/showcase-visit-schedule/
During this event, you will have an opportunity to meet with current team members and coaching staff, learn some of the ins and outs of college forensics, perform for our coaches and alumni as a part of your scholarship application process, and find out more about the experience you could have with Truman State University.
Scholarship Descriptions
The Truman Forensic Union offers 5-6 Talent/Service Scholarships every year to incoming freshmen students who have demonstrated a combination of aptitude in forensics and a passion for continuing to grow and build communication skills through forensic activities. These scholarships range between $500-3000 dollars per year and are renewable for up to 4 years with the fulfillment of the scholarship requirements (see below).
The Robert Newman Freshman Scholarship in Debate is a single, separate award made available only to students planning on competing in debate. Its current value fluctuates between $700-1000 based on stock market conditions.
Additional scholarships are available to students after their freshman year, including the Aileen Corbin Scholarship, the Amy Ayers Rosebury Scholarship, and the Craig Evans Scholarship. These may be appended to already received Talent/Service Scholarships. These awards are not impacted by the tryout process.
These scholarships are designed to supplement other awards and financial aid granted by Truman State University. If you have already been offered a full ride, you are not eligible for additional scholarships offered by Truman Forensics.
Scholarship Renewal
Renewal of Talent/Service Scholarships earned as a result of our tryout process is based upon several requirements. These will include:
Enrollment in COMM 272: Speech Communication Activities during your first semester at Truman.
Travel to a minimum of 2 tournaments per semester.
Weekly attendance at our mandatory team meeting (Tuesdays 6:00-9:00pm).
Attending additional coaching appointments to prepare and improve competitive events.
Maintain a minimum of 3.25 cumulative GPA.
Abidance by all rules specific to Truman State University and the Truman Forensic Union described in our team handbook (these rules apply to both scholarship and non-scholarship members).
As long as these requirements are met and the student remains an active member of the team, the scholarship will be automatically renewed. Failure to meet these criteria will result in discontinuation of the scholarship.
How to Register
Students interested in participating in the scholarship tryout should contact Christopher Outzen, Director of Forensics, at coutzen@truman.edu or call 660-785-4065. You should also contact Admissions to sign up for the Saturday Showcase. As part of the application, students should submit the following materials:
Application Form-Please fill out the application form linked here: Scholarship Application Form 2018
Letter of Interest-Please write a letter of interest in joining the Truman Forensic program.
Competitive Resume-Please provide a resume of awards/honors won in speech, debate, theater, mock trial, model UNI, or similar activities.
Letter of Recommendation- Your high school forensic coach/adviser should provide a letter of recommendation, sent independently of your materials. If you are currently not competing in a forensic program, a letter from a language arts or social studies instructor should be submitted.
Submit all materials no later than March 9th, 2018. 
All application materials can be sent to Christopher Outzen at the following address:
Christopher Outzen, Director of Forensics
Truman State University
Barnett Hall 1212D
100 E. Normal Ave.
Kirksville, MO 63501
Applications sent to coutzen@truman.edu or faxed to 660-785-7101 will also be acceptable.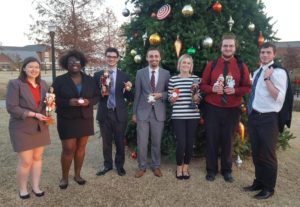 How to Prepare/Plan
The scholarship tryouts and showcase visit will be a one-day process on Saturday, March 24th, 2018. The exact weekend schedule will be forthcoming. However, there are a few things that you can start doing to get yourself ready for the weekend.
Housing
Because this is a one-day event, you should be able to make this a day trip. In the event you would personally prefer to stay the night before or after, Kirksville has several hotel options, including the Holiday Inn Express, Quality Inn, Super 8, and Days Inn (just outside of town).
Tryout Event
You will be required to give a Tryout Performance for our scholarship opportunities. Although our team fully supports student participation in both Speech and Debate, for the purposes of the weekend you will be asked to select a primary association. You will then be asked to prepare for one of the following tryout performances:
Speech-If your primary association is speech, you will be asked to perform your strongest speech piece from this past year. Please indicate which event you intend to perform in your Letter of Interest so we can make any necessary preparations, such writing Extemporaneous Speaking questions.
Debate-If your primary association is debate, you will be asked to construct a 1AC based upon a collection of articles/prompts provided from our debate staff. You should be prepared to read the 1AC. You should also be prepared to offer a rebuttal speech to another applicant's 1AC.
If you have never competed in forensics before but are interested in trying out, please get in touch with Christopher Outzen at coutzen@truman.edu or 660-785-4065 to discuss some basic guidelines for what you can prepare for your tryout. You may also use this contact information to ask any further clarifying questions.
Tryout Criteria
Awards will be assigned by the Truman Forensic Union coaching staff, in consultation with faculty advisers from the Communication Department who may participate in the screening process. Criteria that will be considered in determining award eligibility and amounts may include, but are not limited to:
Does the student possess a strong potential for success in intercollegiate speech and debate?
Does the student provide evidence of work ethic that would support a successful college forensics career?
Does the student demonstrate personal interest and enthusiasm for college forensics?
Does the student view forensics passionately enough to exceed the minimum requirements and obligations necessary to maintain the scholarship?
Will the student contribute positively to the team collaborative dynamic?
Does the student possess a strong recommendation from a high school coach or teacher?
Weekend Schedule
Because we are working with Admissions this year, forensic tryout events will be integrated with the showcase events. The exact schedule for forensic students will be forthcoming but you can find the preliminary showcase schedule at: http://www.truman.edu/admission-cost/visit-truman/showcases/showcase-visit-schedule/
Note: If you are unable to attend the scholarship weekend, you are not precluded from trying out. If you are unable to attend you will be asked, in addition to the registration materials requested above, to send a video of your tryout performance to one of the addresses mentioned above. You may also be asked to schedule a Skype interview with the directors of Truman Forensics at another time. However, we strongly encourage you to plan to attend this weekend. If you have questions regarding this absentee process, please email coutzen@truman.edu or call 660-785-4065.

Frequently Asked Questions
Is financial support available to attend tryouts?
No financial aid is available to attend tryouts. Truman Forensics will provide lunch the day of the event and, schedule depending, breakfast items. However, we cannot provide transportation or housing assistance.
Can parents attend tryouts?
Parents are not required to attend tryouts and are discouraged from attending tryout sessions. However, you will be provided information with various sights to see in Kirksville during the visit. Parents will also have sessions for them during the showcase events
Are full-ride scholarships available?
Truman Forensics does not offer any full ride scholarships but forensic awards combined with other university awards may well cover most of your student expenses.
Do tryouts determine whether I'm on the team?
Absolutely not! Truman Forensics is a program which prides itself in its openness to all students. The only criterion is a willingness to learn and be an active member of the team. The scholarship tryouts are primarily used only to determine the recipients of our Talent/Service Scholarships or the Robert Newman Freshman Scholarship in Debate.
Questions
Any questions regarding the Scholarship Tryout Weekend can be addressed to Christopher Outzen, Director of Forensics. He can be reached via email at coutzen@truman.edu or phone at 660-785-4065.