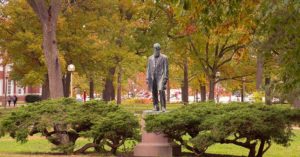 Students from Truman's Forensics Union attended the Missouri Mule/Dale Carnegie swing tournaments, Oct. 15-17, and earned qualifications in multiple events.
In individual events for the Missouri Mule, Emma Rohrbach earned junior tournament champion and third place speaker. Ella Schnake placed third in prose interpretation, first in dramatic interpretation and second in impromptu speaking. Larissa Wratney earned third place in dramatic interpretation. Jillian Humke and Wratney also earned first place in duo interpretation. In junior debate, Matt Kruse earned fifth place speaker and Macy Cecil and Parker Rivers finished as quarterfinalists.
For the Dale Carnegie Classic winners included Alicia Stout as second place open debate and second place speaker. Schnake earned first place in impromptu speaking, second place in prose interpretation and second place in dramatic interpretation. Rohrbach placed first in extemporaneous speaking, Wratney placed fourth in dramatic interpretation and Humke placed sixth in prose interpretation. Humke and Wratney earned first place in duo interpretation. Rivers and Kruse earned third place speaker, first place speaker, respectively, and closed out finals in junior debate.
Team awards include third place overall sweepstakes award for the first half of the swing. For the second half, the team earned first place debate sweepstakes, second place individual events sweepstakes and overall first place sweepstakes awards. In combined sweepstakes, Truman earned first place in debate, third place in individual events and second place overall.
Any students interested in joining the Forensics Union should contact Craig Hennigan at chennigan@truman.edu or Ben Davis at bdavis@truman.edu.