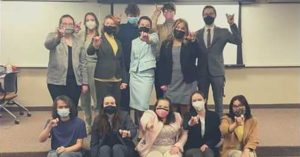 The Truman forensics team completed virtually at the MAFA State Championship Tournament hosted by Park University.
Thirteen students competed earning a combined total of 19 state championships. The team also earned first in overall debate sweepstakes, overall speech sweepstakes and overall tournament sweepstakes. At this tournament, students who entered into at least five speech categories across two or more speech genres – public address, interpretation and limited preparation – were entered into a special pentathlon sweepstakes. Students who competed in at least one debate event and had eligibility in pentathlon sweepstakes were also entered into overall forensicator sweepstakes.
Placements are as follows:
Open Lincoln-Douglas Debate:
Senior Macy Cecil was awarded as fourth place speaker.
Sophomore Alicia Stout was the state champion and the state speaker champion.
Sophomore Elijah Baum was a semifinalist and awarded third place speaker.
Novice Lincoln-Douglas:
Freshman Megan Trent was the state champion and awarded second place speaker.
Open NPDA Parliamentary Debate:
Senior Kayla Gerlt was the state speaker champion.
Senior Jackson Elder was awarded second place.
Sophomore Ella Schnake was awarded fourth place speaker.
Novice NPDA Parliamentary Debate:
Freshmen Megan Trent and Caroline Spiller were the state champions. Trent was also awarded second place speaker.
Freshman Emma Rohrbach was the state speaker champion.
Freshman Eli Bartz was awarded sixth place speaker.
Speech:
Elder was the state champion in extemporaneous and impromptu speaking. He also earned third place in after dinner speaking and original oratory.
Gerlt was the state champion in duo interpretation. She placed second in dramatic interpretation and after dinner speaking, third in prose and informative speaking and fourth in extemporaneous speaking. She was awarded the top overall forensicator and placed second in pentathlon sweepstakes.
Junior Maya Krump was the state champion in original oratory, qualifying her for the interstate oratorical national tournament in April. She was also state champion in informative speaking.
Schnake was the state champion in dramatic interpretation, prose, duo interpretation and program oral interpretation. She placed fourth in impromptu speaking. In addition, she was awarded state champion in pentathlon sweepstakes and placed second for the overall forensicator award.
Sophomore Megan Ford placed fourth in informative speaking and persuasion.
Sophomore Jillian Humke placed fifth in prose and dramatic interpretation.
Any students interested in joining the Forensics Union should contact Craig Hennigan at chennigan@truman.edu or Ben Davis at bdavis@truman.edu.