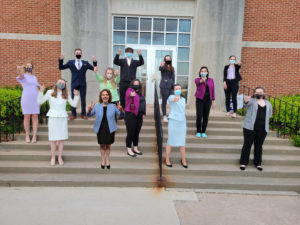 Students from Truman's forensics union attended the virtual National Forensics Association Championship, April 16-20. The team earned more awards than they have in the past 10 years.
In individual events, freshman Megan Ford earned second place nationally in top novice after dinner speaking. Junior Jackson Elder was an octofinalist in extemporaneous speaking. Freshman Ella Schnake placed as an octofinalist in prose as well as quarterfinalist in poetry. Freshmen Jillian Humke and Larissa Wratney placed as octofinalists in duo interpretation while junior Kayla Gerlt and senior Audrey Baker finished as quarterfinalists. The team earned eighth place overall in the Presidents II Division.
In the Lincoln-Douglas Debate Division, senior Cami Smith and freshmen Alicia Stout finished as triple octofinalists. Junior Macy Cecil advanced as well and finished as an octofinalist. The team earned ninth place nationally for Lincoln-Douglas Debate.
For more information on how to get involved, visit forensics.truman.edu or contact Craig Hennigan at chennigan@truman.edu.